Description
Paradise Backyard Putting Green Kit
With the Paradise Backyard Putting Green Kit you can easily remodel that backyard into a golfers Paradise! This Massive 18′ X 18′ design comes with everything you need to be chipping and putting away in your own backyard. The kit includes a durable water proof base that easily allows water to drain through, 3 putting cups, massive turf and fringe, and 5 year warranty on base materials.
Paradise Backyard Putting Green Kit Features:
Easy to build DIY design
3 – 4″ aluminum cups
Chipping Fringe Included
3 holes included
Polypropylene Copolymer Base
Turf and Base come with 5 Year Warranty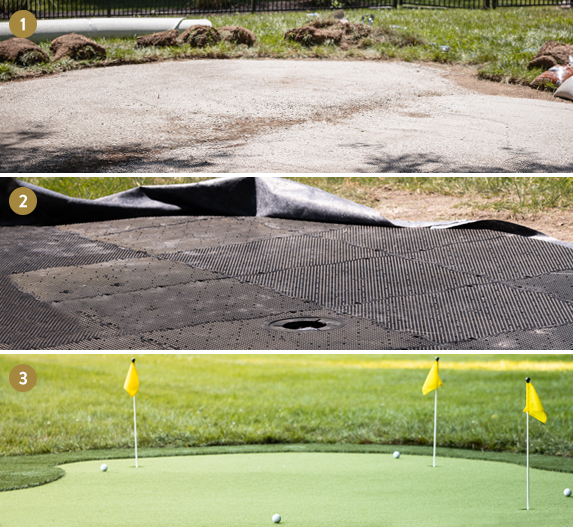 Three Steps to Quick Install
Select or prepare a relatively flat location (no more than 3% slope), utilize compacted stone dust as needed, and install geotextile fabric.
Assemble the Players Series Panel System, placing the pre-drilled cup panels where you would like your hole locations.
Install the cup systems, pre-cut turf and fringe, cut the holes and place flags.
Putting Turf: XGrass One Putt
Fringe Turf: XGrass Luxury 1st Cut
Base Panels: Polypropylene Copolymer (Recycled Materials)
Warranty: 5 Years (Turf & Panels); 1 Year (Accessories)
What's Included: Geotextile Fabric, Players Series Base System, Putting Turf, Fringe Turf, (3) 4" Aluminum Cups, (3) Premium Ball Retriever Flags